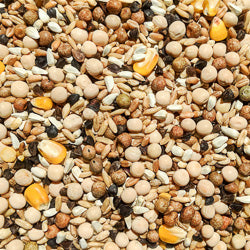 We've been feeding this veterinarian-designed mix of 9 grains and legumes to our own birds for 20 years, and they are happy and healthy because of it.
Sara's Cooked Grain Mix is unique because you cook it before feeding. See our recipe page for instructions; the short version is simmer the mix in water for 45 minutes, then drain and refrigerate or freeze. We feed several heaping tablespoons daily, along with fresh vegetables, an almond in shell or two, a small amount of seed, and always-available pellets. You can find our recommended diet here; if you have any questions contact us or your avian vet.
We sell Cooked Grain Mix by the quart (about 2.3lb / 1kg) and gallon (about 7.4lbs / 3.3kg).
INGREDIENTS: Yellow Peas, Hard Red Winter Wheat, Maple Peas, Hulled Oats, Hulled Barley, Buckwheat, Safflower Seed, Shelled Corn, Australian Peas
GUARANTEED ANALYSIS: Crude Protein, not less than 16.50% Crude Fat not less than 4.00% Crude Fiber not more than 8.00% Moisture not more than 14.5%